What You Need to Know About 10 Digit Dialing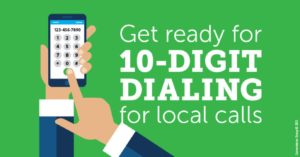 In July 2020, the Federal Communications Commission adopted an order approving the designation of 988 as the 3-digit dialing code to reach the National Suicide Prevention Lifeline. To facilitate implementation, area codes in 37 states where the 988 prefix is a working prefix and which now use 7-digit local dialing must switch to 10-digit local dialing. This includes our 515 and 319 area codes in Iowa.
Timeline for implementation:
April 21, 2021 – start dialing 10-digits for all local calls.  To complete all local calls, users will now need to dial AREA CODE + TELEPHONE NUMBER (515-XXX-XXXX). This applies to all calls within our area code that are currently dialed with seven digits. If you forget to do so during this transition period, your calls will still be completed.

Example:  515-386-XXXX for Jefferson Telecom customers;  515-370-XXXX for U.S. Cellular customers;  515-391-XXXX for local Verizon cellular customers.  A 1 does not need to be dialed before the area code for 'local' calls.

Beginning October 24, 2021, all Iowans with numbers in the 319 and 515 area codes must use 10-digit dialing for all local calls. As of that date, local calls dialed with only seven digits may not be completed, and a recording may indicate a call cannot be completed as dialed. If you get this recording, you must hang up and dial again using the full 10-digit number (area code with the seven-digit telephone number).
What will remain the same?
Your telephone number, including your area code, will not change.
What is considered a local call will remain a local call even though the area code must be dialed.
Continue to dial 1+ area code + telephone number for all long-distance calls.
Three digit dialing remains for 211 (essential community services), 411 (directory assistance), 511 (Iowa traveler information), 811 (Iowa One Call), and 911 (emergency services).
The National Suicide Prevention Lifeline can still be reaching by dialing 1-800-273-TALK.
In addition to changing your dialing routine, you'll also have to reprogram 7-digit local numbers to 10-digit numbers in any device that automatically makes calls for you, including:
Speed dial feature on a phone
Home security equipment
Personal emergency response system
If you have any questions regarding the change to 10-digit dialing please call Jefferson Telecom at 515-386-4141, option #4.