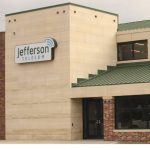 105 W. Harrison Street
Jefferson, IA 50129
Open today: 9:00am to 5:00pm
Monday:

Tuesday:

Wednesday:

Thursday:

Friday:

Saturday:

Sunday:
Jefferson Telecom Museum is currently closed.
Business Office
Our Business Office team is here to assist you with all of your Jefferson Telecom products and services.
Jamie Daubendiek – General Manager
James Daubendiek
Shirley Griffin
Karla Kohl
Bob Larson
Lindy Lehman
Jody Schulte
Plant Department
Our Plant Department is usually "in the field" digging trenches, placing fiber, working on new construction, maintenance or repair.
Dave Dideriksen
Ryan Koch
Kelly Murphy
Rodger Nichols
Duane Russell
U.S. Cellular Agent
If you have a Cellular question, come see Jefferson Telecom's knowledgeable cellular staff.
Jolene Anderson
Daniel Rohner
Dan Taylor
Kimberly West