Affordable Connectivity Program


What is the ACP or Affordable Connectivity Program?
The Affordable Connectivity Program (ACP) helps qualified households pay for broadband service.
The FCC's new ACP benefit helps households afford the broadband needed for work, school, healthcare, and more. It provides a discount of up to $30 per month toward internet service for eligible households.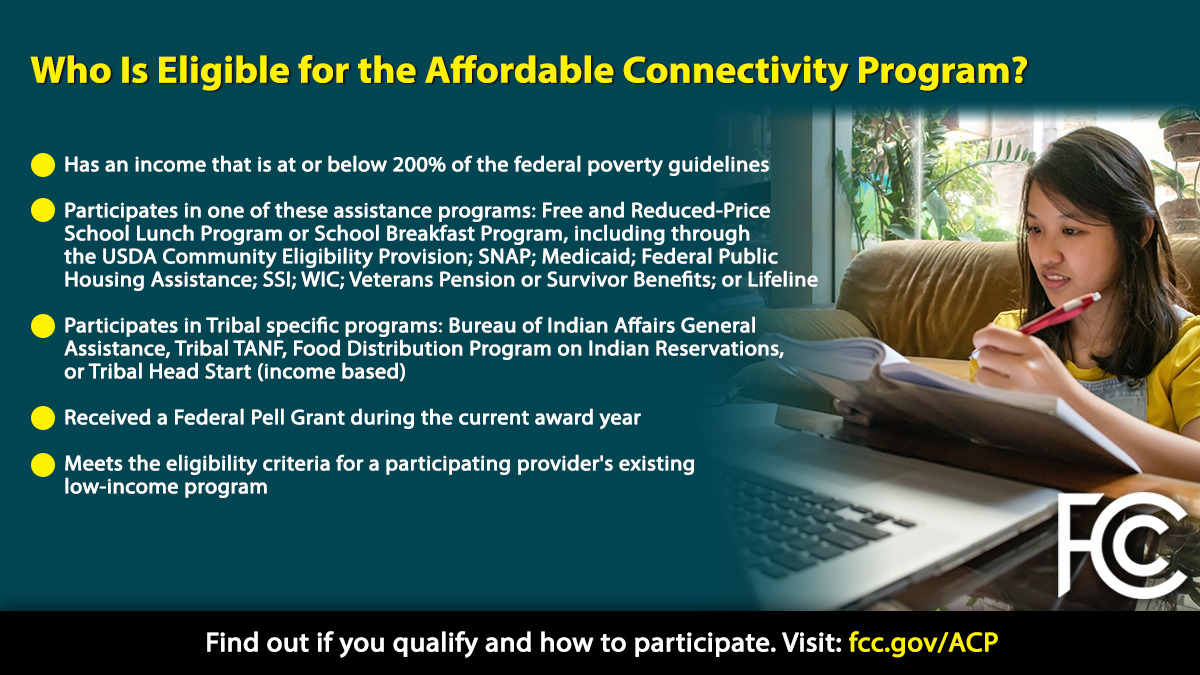 How to Apply
Step 1: Qualify
Go to GetInternet.gov to verify your household's eligibility for the Affordable Connectivity Program (ACP).  You must go online to this website and follow the instructions provided to qualify.
Step 2: Enroll
Once your eligibility is confirmed through GetInternet.gov, contact Jefferson Telecom at 515-386-4141 to receive the credit on your account for internet service.
Step 3: Sign Program Acknowledgement Form
Customers participating in the ACP Program will need to sign a Jefferson Telecom consent form acknowledging the terms and conditions for receiving the benefit.
---
How Does the ACP Protect Consumers?
FCC rules protect Affordable Connectivity Program recipients by:
Empowering consumers to choose the service plan that best meets their needs (including a plan they may already be on);
Ensuring consumers have access to supported broadband services regardless of their credit status;
Prohibiting providers from excluding consumers with past due balances or prior debt from enrolling in the program;
Preventing consumers from being forced into more expensive or lower quality plans in order to receive the ACP;
Ensuring that consumers are not liable for early termination fees;
Reducing the potential for bill shock or other financial harms;
Allowing ACP recipients to switch providers or broadband service offerings; and
Providing a dedicated FCC process for ACP complaints.
Get More Consumer Information
Check out the Affordable Connectivity Program Consumer FAQ for more information about the benefit.